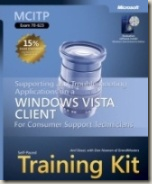 Windows Vista (Exam 70-623) Training Kit
This book is designed for Consumer Support Technicians (CSTs) who are responsible for configuring, managing, and troubleshooting Windows Vista for home and small business users.  The book covers all of the exam objectives for Microsoft Exam 70-623: Supporting and Troubleshooting Applications on a Windows Vista Client for Consumer Support Technicians.  Passing that exam will make you a Microsoft Certified IT Professional.  If you have been thinking about getting more involved in IT and you want to prove your skills, this is a great exam to start with.
The book contains the following chapters:
Preparing to Install Windows Vista
Installing Windows Vista
Configuring and Customizing the Windows Desktop
Configuring Windows Features
Optimizing Windows Vista Performance
Configuring Windows Vista Security
Using Windows Security Center
Configuring Parental Controls and Browser Security
Configuring Windows Vista Networking
Managing Network Sharing
Managing and Troubleshooting Devices
Troubleshooting Windows Vista
Repairing Windows Vista
The book and companion CD includes hundreds of practice questions that will help you prepare for the exam.  There's also an included coupon to help save you money on the exam.  More details about the book are available from the Microsoft Press Training Kit site.