About this Site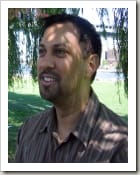 Welcome to Anil Desai's blog and web site.  On this blog, you'll find links to the many technical articles and other content I have created.  The major topics are related to virtualization, IT management best practices, software development, and working with the Windows Server platform.  Feel free to leave comments on this site, or e-mail me at Anil@AnilDesai.net.
Anil Desai's Bio
Anil Desai is an independent consultant based in Austin, TX. He specializes in evaluating, implementing, and managing IT solutions. He has worked extensively with IT management, development, and database technology.  Anil holds many certifications and is a Microsoft MVP (Windows Server – Virtualization).
Anil is the author of numerous technical books focusing on the Windows Server platform, virtualization, databases, and IT management best practices.  He is also a frequent contributor to numerous IT publications and conferences.  For more information, please see http://AnilDesai.net, or e-mail Anil@AnilDesai.net
Awards and Certifications
Microsoft Most Valuable Professional (MVP): Windows Server – Virtualization
(2006 – 2020)
Microsoft Certified IT Professional (MCITP)
Microsoft Certified Systems Engineer (MCSE)
Microsoft Certified Solutions Developer (MCSD)
Microsoft Certified Database Administrator (MCDBA)
Note: This list includes only major certifications.  For more details, please see my Certifications and Qualifications page.