The Rational Guide to Managing Microsoft Virtual Server 2005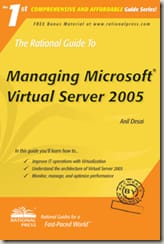 Microsoft Virtual Server 2005 is Microsoft's server-side virtualization product. Virtual Server has been designed to allow users a great deal of power and flexibility in hosting virtual machines in mission-critical Enterprise deployments without having to invest in additional hardware.
In this clear and concise book, Microsoft MVP Anil Desai discusses the benefits of virtualization technology and covers the essentials of working with Virtual Server 2005, including installation, configuration, creating a virtual machine, and installing a guest operating system. It covers the technical architecture of Virtual Server, topics related to disk, CPU, memory, and network resources, as well as procedures for administering host and guest operating systems.
While this book is a superb introduction to Virtual Server 2005, it also covers advanced topics, such as the methods and practices for improving host resource utilization and for monitoring virtual machine performance. This book is the recommended prerequisite reading for the forthcoming book from Rational Press, The Rational Guide To Scripting Microsoft® Virtual Server 2005, which focuses on programming Virtual Server 2005 with scripting and automation.
Technical accuracy is assured by Mike Sterling, Program Manager on the Windows Virtualization team at Microsoft.
Table of Contents
Part I: Introduction
Chapter 1: Benefits of Virtualization
Chapter 2: Virtualization Concepts
Chapter 3: Planning for Virtualization
Part II: Installation and Configuration

Chapter 4: Installing and Configuring Virtual Server
Chapter 5: Setting Up a New Virtual Machine
Chapter 6: Configuring Virtual Machine Hardware
Part III: Administration

Chapter 7: Understanding Virtual Hard Disk Architecture
Chapter 8: Networking Architecture
Chapter 9: Virtual Server Security
Part IV: Advanced Concepts

Chapter 10: Managing CPU and Memory Resources
Bonus Chapters (Online)
Chapter 11: Optimizing Disk Performance
Chapter 12: Optimizing Network Performance
Chapter 13: Virtualization Best Practices
Download a Free Preview Chapter
Download a free preview chapter: "Chapter #7: Understanding Virtual Disk Architecture".  It covers details related to the various types of VHDs you can create, and when to use each one.
Reviews
"Anil has created a great resource for IT Professionals interested in making virtualization a reality!"
James Ni, Group Product Manager
Windows Virtualization, Microsoft Corporation
"A good approach to virtualization and Virtual Server 2005.  It offers in-depth coverage, but is not overwhelming to newcomers."
Alessandro Perilli,
CISSP, MVP, IT Security and Virtualization Technology Analyst