With the official consumer release of Windows 7 just a few days away, a lot of people are probably wondering whether their computers will be able to run Microsoft's newest OS.  Potential issues include device drivers, hardware, software, and user settings.  The free Windows 7 Upgrade Advisor Beta can help you answer these questions quickly an easily.  The process couldn't be much easier: Just install and run the Upgrade Advisor (it runs on Windows XP, Windows Vista, and Windows 7).  The utility will take a few minutes to run and will then return a report like the one below (assuming you're running a fairly current desktop or notebook computer).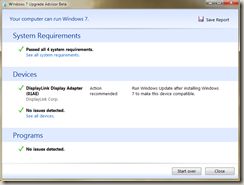 You can also view a list of system requirements and your current specifications: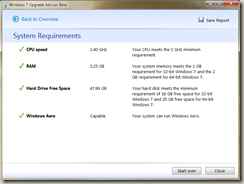 For the most part, users shouldn't have much trouble when upgrading to Windows 7.  The magnitude of under-the-hood architectural changes is much less than it was during the leap from Windows XP to Windows Vista.  And, third-party hardware and software vendors have finally caught up (for the most part) and are providing reliable drivers.
From my experience, Windows 7 seems to run about as fast as Windows XP (which means it's much faster than Windows Vista).  I have upgraded numerous desktops and notebooks to Windows 7 without any problems that I couldn't quickly and easily resolve.  I think it will be a worthy upgrade for most users, and the Upgrade Advisor should be able to provide some warnings related to potential problems before you take the plunge.