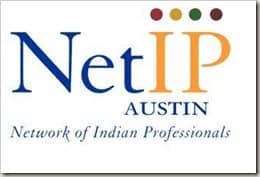 I've been elected to be Technology Director for the NetIP Austin Chapter.  NetIP is a national non-profit organization with chapters in numerous cities in the United States.  Here's a brief excerpt of the organization's mission:
The purpose of NetIP is to serve as an organization that meets the needs of South Asian professionals in North America as they grow in their personal and professional lives. Over the years, NetIP has become a premier networking brand in our community. It has become the unequivocal voice for an emerging group of South Asians, who excel in every aspect of western society, from business to politics to the arts. The rise of NetIP and its affiliated chapters reflects a general "Coming of Age" by South Asian professionals. We are proud to state that many of our present members and past alumni now hold respected positions of leadership in the private, public, and non-profit sectors all over the world.
You can find more details about NetIP's purpose and mission at the NetIP North America web site.
NetIP Austin
If you're an Indian or South Asian professional in the Austin area (or you're thinking of visiting or moving here), please do check out the NetIP Austin web site.  We have many fun and engaging events planned for 2010.  They're organized into four main pillars:
Professional Development
Cultural Awareness
Community Service
Political Awareness
In addition, we have general social events like a monthly happy hour.  Complete details are available on our Events page with more details coming very soon.
Technology Platform
OK, on to technology: NetIP has standardized on the use of the Joomla! platform for all chapters' web sites.  So far, I have mixed feelings about the Joomla! Content Management System (CMS).  It seems to be stable and well-designed, overall.  However, the organization concepts of articles, categories, and sections seems difficult to apply in some cases.  For now, the site has been built with completely static navigation, which makes it really difficult to manage content.  I'm working on changing this, but it seems to involve more work than it should.  Hopefully, I'll be able to provide an update on my impressions of Joomla soon.  In the meantime, I'd be happy to hear about others' experiences with the platform.