One of the more common questions I get are those related to career advice and suggestions for getting started (or moving up in) the field of IT.  These questions are really important for those that are trying to make the most of their careers in rather trying times.  On that topic, Michele P. Rouse from the SQL Certification Blog recently provided me with some great content that will provide some information on the new SQL Server Microsoft Certified Master qualification.  Be sure to check out Michele's site for more information and advice on various database certifications. – Anil
Will you get advantages from the new easy to get SQL server master qualification?
By Michele P. Rouse (SQL Certification Blog)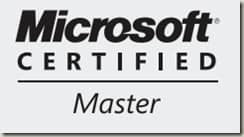 In my experience the most notable DB platforms are Microsoft and Oracle. I have come to find that MySQL is trusted in start-up companies and DB people who know this platform will make higher salaries, but I honestly rarely ever run into MySQL in job searches.
One reason I favor MS SQL Server is because it also includes the SSRS BI platform which is powerful and popular. DB folks who know SSRS (SQL Server Reporting Services) have become very sought-after candidates in several companies. Typically, companies end up needing to buy licenses for third-party BI (Business Intelligence) applications which could cost a lot of extra money.
With SQL Server, BI and ETL (extract, transform, load) tools come with the original license. I know that maybe the interest in databases is especially to understand DB construction, however you can't say for sure when or if you branch out and find out more.
The advantage of SQL is that the language itself is fairly universal. I say fairly because each vendor has added their very own functions and syntax. Microsoft and Sybase both use T-SQL, Oracle uses PL/SQL and MySQL uses ANSI-SQL. Ultimately everything you start learning on one platform could be applied to other platforms.
Becoming a SQL Server Microsoft Certified Master (MCM) is no small task now. Lower than 1 percent of certified professionals hold a Master certification, and even for good reason: In addition to having difficult minimum competencies (5 years SQL Server experience and deep knowledge in all facets of SQL Server), practicing a SQL Server MCM has always come at a significant cost. In fact, that cost has been about $18,500, once you accumulate the necessary three week training and four exams.
The SQL Server MCM certification is the highest technical certification that Microsoft offers to SQL Server professionals. It's suitable for individuals with five years of hands-on SQL Server experience in critical environments. Competencies include designing and implementing high-performance, scalable enterprise environments and troubleshooting the most challenging SQL Server issues.
Well, at PASS (The Professional Association for SQL Server) this week, Microsoft announced all that is changing. Based on the company, the changes will be in reply to requests from experienced SQL Server professionals who need to earn MCM's but (go figure) do not have $18,500.
Now, candidates can earn the certification by passing just two exams: the four-hour Knowledge Exam, and a six-hour hands-on Lab Exam, which is obtainable in early 2011.
Fortunately, Microsoft has made some significant changes to the program, including:
The 3-week in-person training has stopped being required. So, if you think like you have what it takes, you'll be able to march right up and go ahead and take the certification exams. You pay the price of the exams, which can be about $2,500.
There are now only two exams rather than four: 88-970 (Knowledge Exam) and 88-971 (Lab Exam).
To aid SQL Server professionals plan for the exams at a lower cost, Microsoft now offers some free MCM videos.
And you? Do you think the newest MS SQL Certification will assist you in your job?
Who am I ?: Michele P. Rouse is writing for the sql certification path blog, her personal and non-commercial in nature hobby blog targeted at recommendations to offer free info for data base beginners/professionals to enable them to get a new profession.