I often enjoy talking with other technical professionals about the path of IT (in general) and about new or upcoming technology (the geeky details).  I'm happy to have had the opportunity to appear as a guest on a recent TechNet Radio Community Corner.  In the ~15-minute conversation, we discussed information about supporting the IT community, the current and future state of virtualization (including directions of Hyper-V and System Center Virtual Machine Manager (SCVMM)). 
Here's some brief information about this episode, titled TechNet Radio Community Corner: Virtualization with Microsoft MVP Anil Desai:
In today's Community Corner, Sr. IT Pro Evangelist John Weston interviews Microsoft Virtualization MVP, Anil Desai to the show. Tune in as they discuss cloud computing's impact to IT, System Center Virtual Machine Manager 2012, as well as the relationship between Virtualization and Private Cloud solutions.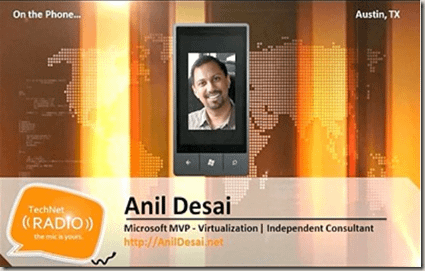 Special thanks to Chris Caldwell and John Weston for inviting me and for a fun conversation!  For more shows and episodes of related shows, visit the TechNet Edge web site.