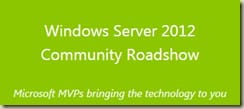 Windows Server 2012 (formerly known as Windows Server "8") is nearing completing.  With a "Release Preview" set to be available in early June, it's a great time to bet familiar with the extremely long list of new features in Microsoft's latest server platform. 
To help IT pros learn from those that have experience with the new features, Microsoft, Dell, HP, and the Global IT Community Association (GITCA) are sponsoring the Windows Server 2012 Community Roadshow.  These events will be covering many areas throughout the U.S. and internationally and presentations will be made by local/regional Microsoft MVPs.  I'll be presenting in Austin, TX on Tuesday, May 29th, 2012 from 1:00pm to 5:00pm (location details coming soon).  Visit the event web site to find a location near you (dates and locations are still being added), and be sure to register if you plan to attend.  Here's a brief overview of the topics that will be covered:
This event will showcase presentations and demos from Microsoft MVPs on the following topics

· Manageability

· Simplifies configuration processes

· Improved management of multi-server environments

· Role-centric dashboard and integrated console

· Simplifies administration process of multi-server environments with Windows PowerShell 3.0

· Virtualization

· More secure multi-tenancy

· Flexible infrastructure, when and where you need it

· Scale, performance, and density

· High availability

· Storage and Availability

· Reduces planned maintenance downtime

· Addresses the causes of unplanned downtime

· Increases availability for services and applications

· Increases operational efficiency and lower costs

· Networking

· Manage private clouds more efficiently

· Link private clouds with public cloud services

· Connect users more easily to IT resources
As an aside, I recently returned from the TEC 2012 conference in San Diego, where I gave two presentations on just the storage features in Windows Server 2012 and Hyper-V 3.0.  That alone was a lot of information to cram into just a couple of hours.  This no small release, and there's a lot to learn.  I hope readers of this blog are able to make it to either the Austin event or one of the many other locations which will be added soon!