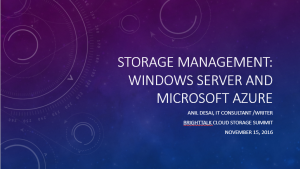 The third and final (so far) upcoming BrightTALK presentations is titled Storage Management: Windows Server and Microsoft Azure.   Here's an overview of the topic for this free online webinar:
Organizations have more options than ever when it comes to deciding how and where to store their data.  In an ideal world, low-cost high-speed storage would be nearly infinite.  Practicality, however, demands that IT groups determine how best to leverage their own storage (including local, NAS and SAN options), and how cloud storage can fit into the overall architecture.  This presentation will start with recommendations for classifying storage requirements based on various needs, ranging from lower-cost, long-term data archival to highly-available, fault-tolerant, geo-replicated architectures, along with the vast sea of data that's located in between these requirements.  The focus will be on the many different ways organizations can leverage existing and new features in the Windows Server platform and the many available storage-related services in the Microsoft Azure cloud.  Also covered will be information about building a private cloud architecture in your own datacenter, using the Microsoft Azure Stack, System Center, and related OS and cloud options.
Note: To access the recording of this session (and all of my past BrightTALK webinars), please search using https://www.brighttalk.com/search?q=Anil+Desai.