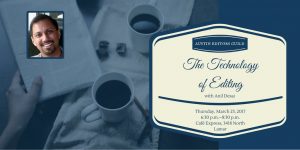 I'm looking forward to speaking at the March meeting of the Austin Editors Guild.
Here's an overview of the topic:
Join us this month to up your tech game! We'll talk about features in Microsoft Office and Word that will help you improve your workflow, editing process, and document management. Don't worry if you don't have the latest versions—we'll discuss both free and paid options for upgrades.

We'll show demos on how you can use Microsoft Word and OneNote to manage the editing process. You'll also see new features in action and practical applications for their use, such as real-time document collaboration, advanced formatting features, Word's new grammar-checking feature, SmartArt graphics, and more. Anil will share real-world examples of how he's managed his writing and editing projects for a variety of major publishers, lessons learned, and tips for dealing with poorly organized environments and processes.
For more information, visit the Austin Editors Guild Web Site; and view updates on Twitter (@austineditors).
Update (04/03/2017): I really enjoyed talking to the group and had some great questions and answers.  Attached is a slide presentation for any attendees or anyone that missed the session: The Tech of Editing (Austin Editors Guild).